We Currently Have no Litters Planned.
We are excited to tell you about our June 2010 litter from Rascal and Sky.  Two of our most outstanding performance dogs.  This is a phenomenal breeding combining intelligence, drive, trainability, genetics, sound confirmation, and love.  We think if you are looking for a performance golden you could not find a better litter in America (yes we are biased!).
NEWS FLASH! June 27, 2010  Berthoud, CO  Rascal delivered 8 healthy puppies on June 14th, 2010. There are 5 girls and 3 boys. Everyone is doing well and growing fast!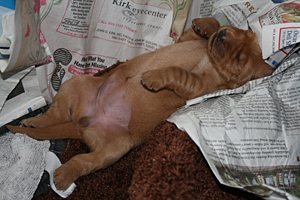 Sire is Misty Marshes Mountain Sky, better known as Sky. We are excited about this litter as these pups should excel in the field, obedience ring or agility ring. With Rascal's intensity and Sky's desire to please, these pups will be a trainers dream come true.
Sire: Misty Marshes Mountain Sky UDX RE MH AX MXJ RE WCX (OTCH MACH9 U-CDX Coppertop's Live Wire VCD3 UDX TDX MH MXF TQX WCX CCA VCX ADHF OS x Misty Marshes Santa Ana Wind NA NAJ)
OFA GR-85759G29M-PI, GR-EL11042M29-PI
Pedigree can be viewed at K9data.
Sky has many placements in both agility and obedience. He needs just one more leg for his MX, has many MACH points, plus a win and points towards his OTCH.
Dam: Topbrass Miss Independant ** (FC Wraiths HTR MN Bro Macdhuibh OS x AFC Topbrass Pawsability OD FDHF)
OFA GR-100414E41F-VPI, GR-EL21914F41-VPI
Pedigree can be veiwed at K9data.
Rascal has derby and qual placements. She exhibits determination in the field and a passion to work. She placed 4th last fall in the Golden Retriever National Specialty Qualifying in a field of over 50 national quality dogs.  She will be ready to run all age stakes in the fall.
This litter is one of the best performance litters you will see this year.  We own both of these dogs and they live with us in our home.  Both of them are outstanding upland and waterfowl hunters, and Sky has had hundreds of ducks shot over him.  You should come to visit us to see these dogs in the field and in our home.  You will not be disappointed.
Reservations are currently being taken. Cost $800 to $1,500. Health guarantees.
Call Wayne or Deb at 970-532-2295 or email to puppies@mountainskyretrievers.com
Here are some pictures of these two dogs and the places where they play!!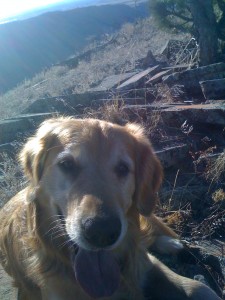 Here is Sky up in the mountains at our home. He is distinguishingly greying!!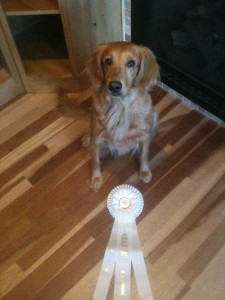 Rascal in my office just days before delivering these puppies. She is confused about her expanding waistline.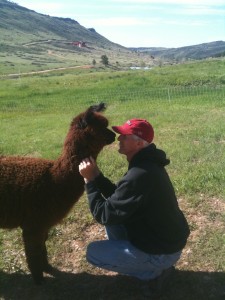 Here I am with one of our gang. Wait a minute this is an alpaca. Yes, sometimes Java thinks she is a dog!!